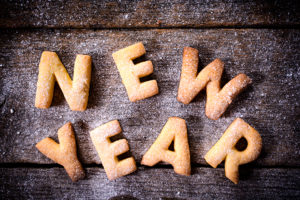 The time has come to set New Year's Resolutions. For some of us, this means sitting down and seriously brainstorming about what we want to accomplish in 2018. For others, it is a time to renew our commitment to last year's resolutions, which may remain unaccomplished.
Recently, I read about SMART resolutions. SMART, is an acronym attributed to Peter Druckers 1981 Management by Objectives concept, but it is more recently discussed by St. Louis University's professor Robert Ruben. While Professor Ruben admits that the concept has evolved to have many different meanings, the basic components of SMART resolutions involve making them measurable and attainable. SMART resolutions are:
Specific (simple, sensible, significant).
Measurable (meaningful, motivating).
Achievable (agreed, attainable).
Relevant (reasonable, realistic and resourced, results-based).
Time bound (time-based, time limited, time/cost limited, timely, time-sensitive).
SMART resolutions are easy to track because of the way they are set up. For example, you may have a goal to eat healthier and exercise. But "Eat healthier and exercise" as a goal is hard to measure, and therefore easy to push aside and ignore. This same goal can be converted into a SMART GOAL as follows:
In 2018 I will attend 2 yoga classes a week.
In 2018 I will eat 3 home cooked, plant based meals a week.
The way they are written above, you can easily tell whether or not you are accomplishing the goals. If it is too challenging, you can adjust the goals by lowering the number of times you do the stated activities. You can also increase the goals as the year progresses- you may find, after 6 months, that three yoga classes a week is better for you, and you may increase the number of meals you cook each week as you become a better chef!
To learn more about SMART resolutions, go to: https://www.mindtools.com/pages/article/smart-goals.htm
From all of us at Parra Harris Law, may you have a Blessed 2018!