Jacksonville, FL – April 20, 2021 Parra Harris Law is excited to announce that we are celebrating our law firm's 5th anniversary with an event on May 5th, "Celebrating 5 on 5/5 at 5", a Cinco de Mayo themed party to celebrate at our beautiful property located on St. Augustine Road. Founded in January 2016, our family law litigation boutique was founded upon the principles that Family Matters! So, that is all we do: Family. Matters.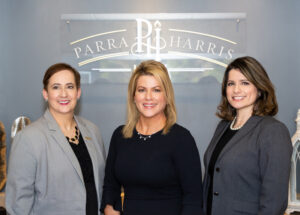 In our first 5 years, our founder, Paola Parra Harris, has enjoyed the recognition of "Ultimate Attorney in Family Law" from the Jacksonville Business Journal, "Hispanic Business Leader of the Year" from the Mayor's Hispanic American Advisory Board and "Woman of Distinction" from the Gateway Council Girl Scouts. In addition, she has been received the highest possible attorney rating in both legal ability and ethical standards reflecting the confidential opinions of members of the bar and judiciary as an AV Preeminent Attorney from Martindale Hubbell since 2017 to 2021. Our firm is proud to serve as a fully bilingual family law firm with all three attorneys, Paola Parra Harris, Mercedes Blason-Aguilar and Lt. Cmdr., (Ret.) Priscilla "PJ" Justiniano being fully bilingual in Spanish. The three Latina women assist clients in their native language of Spanish.
To commemorate the special occasion, we are highlighting and donating to five local charities that promote our family law firm's mission and tagline:
Family. Matters.   These five charities are: Sulzbacher, Catholic Charities of Jacksonville, Hubbard House, JALA (Jacksonville Area Legal Aid) and The Giving Closet Project and their executive directors will be presented their donations at our event. Our Founder is currently a board member of the Sulzbacher and a past Board Chair of the Catholic Charities of Jacksonville. Our "Celebrating 5 on 5/5 at 5" event will feature a mariachi band, margaritas and mucho fun for our guests which will include local judges, magistrates, mediators, clients, colleagues and other special guests whom we wish to thank for their support during our five year journey. For more information about our family law firm, visit www.parraharrislaw.com or visit us on our Facebook page, Twitter or LinkedIn.